Holiday Mains & Sides Seasoning Set
Bring out the best in your holiday mains, sides, appetizers & snacks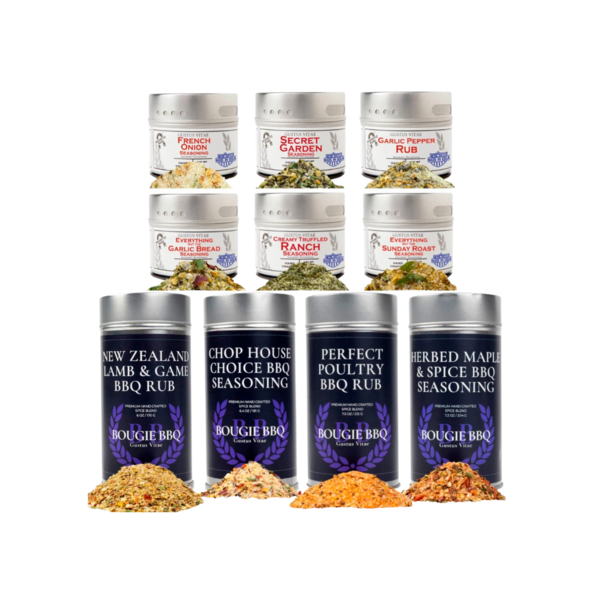 This Holiday season, elevate everyday meals and special occasions alike with the complete collection of artisanal seasonings, spice blends, rubs, and marinades that'll transform the ordinary to the exceptional.
Featuring 4 jumbo sized seasonings for big, bold mains like whole turkey, Sunday roasts, and salmon fillets, as well as 6 gourmet spice blends specially crafted for sides from garlic bread to creamy mashed potatoes to refreshing salads, this comprehensive pack has you covered for all your Holiday cooking.
Crafted in small batches from all natural, non GMO ingredients, blended and packed by hand, and free from MSG, fillers, stabilizers and anti-caking agents, wheat, gluten, and artificial colors and flavors, these seasonings are loaded with flavor that enhances, never overpowers.
Includes:
- New Zealand Lamb & Game Rub (8 oz)
- Chop House Choice BBQ Seasoning (8 oz)
- Perfect Poultry BBQ Rub (8 oz)
- Herbed Maple & Spice BBQ Seasoning (8 oz)
- Everything But The Garlic Bread Seasoning (4 oz)
- Everything But The Sunday Roast Seasoning (4 oz)
- Creamy Truffled Ranch Seasoning (4 oz)
- Garlic Pepper Rub (4 oz)
- French Onion Seasoning (4 oz)
- Secret Garden Seasoning & Rub (4 oz)
About the Brand - Gustus Vitae
Gustus Vitae, the "Taste of Life" in Latin, are crafters in Venice, CA of artisan finishing salts and authentic gourmet spice blends. They source both local and international sustainably sourced ingredients, and only accept the highest quality before hand-packing them into a reusable and recyclable tin.