Anti-Inflammatory + Energy Herbal Supplement Set
Digestive support, immunity building, anti-Inflammatory, energy boosting blends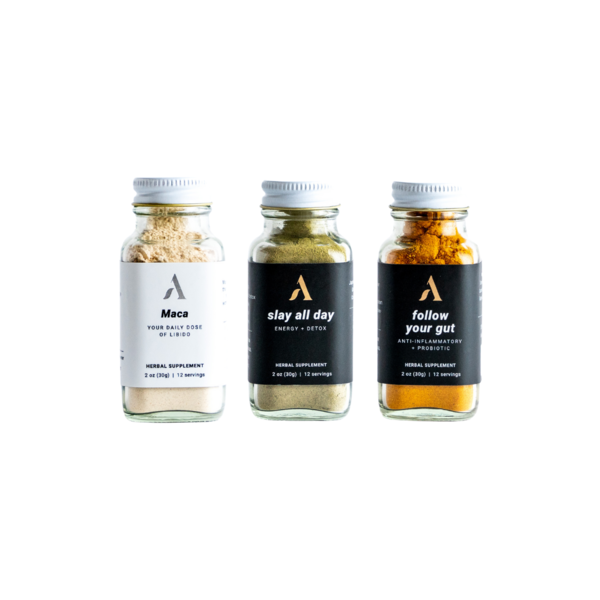 Research shows that most diseases originate in the gut. You Gut This is formulated to produce both the perfect acid-alkaline pH (7-8) and good bacteria growth to prevent symptoms of a leaky gut. A permeable gut wall can lead to inflammatory responses from breakouts to severe chronic illnesses.
WHAT'S INCLUDED:
Follow Your Gut (12 servings) is an adaptogen-infused blend containing the anti-inflammatory Turmeric as a base, with stress reducing Astragalus Root for a distinctly potent herbal boost for your gut and skin. A powerful defense against a leaky gut, which lowers your risk of disease caused by inflammation.
Slay All Day (12 servings) is a next-level energy boost that contains two powerful adaptogens, Chlorella and Ginseng Root, that combine to increase the bioavailability of compounds to the body and adapt to our cortisol levels to ultimately reduce stress hormones and levels.
Maca (12 servings) has a mildly sweet and creamy nutty flavor, so it's one of our favorite ways to upgrade our latte or smoothie. As an adaptogenic root, it not only reduces anxiety and gut inflammation, it's been used for centuries as a mood booster. Bring on the happy!
About the Brand - Apothékary
Apothékary is a natural apothecary that offers food as medicine to heal our modern day ailments.
Founded by former Wall-Street banker and wellness entrepreneur, Shizu Okusa, our roots lie in her healing journey with Ayurvedic and Kampo Medicine and traditional Japanese upbringing where natural solutions were always preferred.
Herbs are a potent yet natural alternative to quick fix drugs, and offer no side effects when consumed for your unique mind-body type. We believe getting back to our roots is the key to long-term wellth and happiness.