Instead Card Deck & Essential Oil
A card deck for scrolling less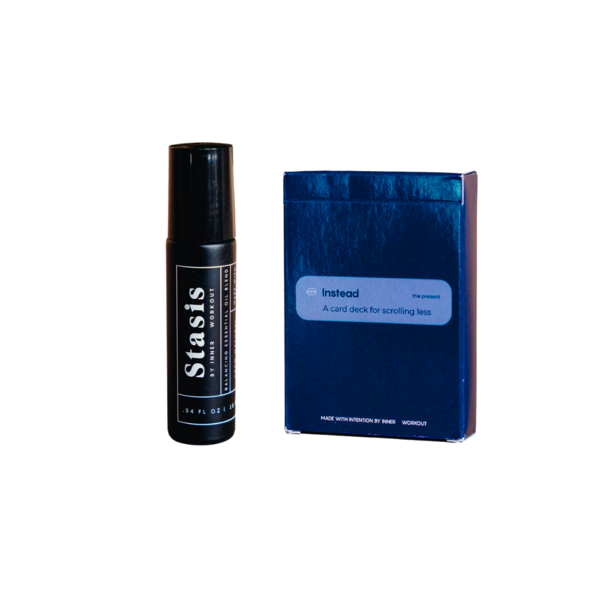 This essential oil blend is perfect for when you're riding an emotional rollercoaster that you would very much like to exit, for when you can't put your finger on it, but something just feels energetically off, for when you don't have the time or the space to an extensive self care ritual, Stasis is self care support that you can literally pull out of your back pocket. This essential oil blend, featuring woods, herbs, and citrus oils, was formulated by a clinical aromatherapist to help bring you back into balance. Let Stasis deepen the self care practices that you've already crafted with so much intention. It pairs well with deep breathing, mindful movement, and meditation.
The Instead card deck includes 50 cards that offer you prompts, activities, and affirmations as an alternative to scrolling. Divest from distraction and reinvest in your self care. This deck is for you if you find yourself checking your phone at every spare moment, you often feel drained after scrolling social media or if you've realized that spending hours on social media isn't giving you the connection you seek.
About the Brand - Inner Workout
Inner Workout started with a question that came to the founder on a yoga mat: What if we could help people build the skill of self care? And they've been trying to answer that question ever since. Inner Workout is your self care support system. They build practices, partnerships, and products that help you reclaim your role as the true expert on your wellbeing.
*BIPOC & Women-owned.
‍