Terrazzo Soap Charcoal + Peppermint Spa Set
A uniquely refreshing and detoxifying piece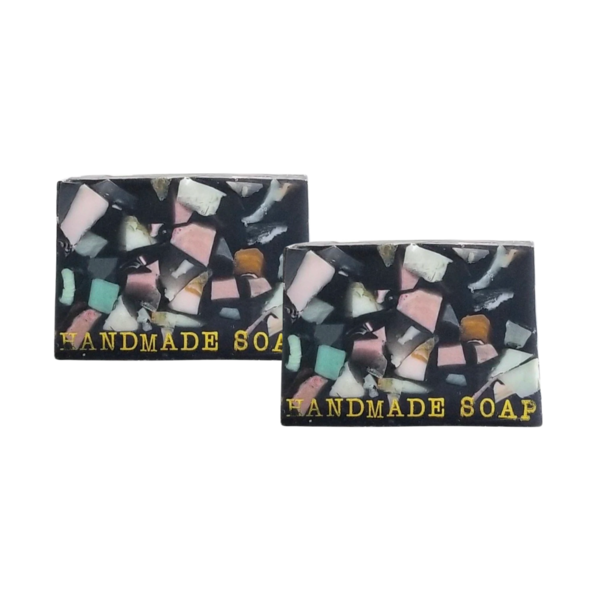 These Terrazzo-inspired soaps are made with a shea butter base sprinkled with soap chips, then infused with activated charcoal to make a uniquely refreshing and detoxifying piece for your hands and body.
This soap is handcrafted in small batches and can slightly vary in size, color and design.
Details:
- Scent note: Peppermint, Eucalyptus, Rosemary, Lavender, Tea Tree
- Finest quality glycerine soap made the old fashioned way, which is as natural as we can make it!
- Natural recipe, using only food grade botanical oils that are sustainably farmed
- No SLS or SLES, non-GMO, and biodegradable
- Vegan and cruelty-free
- Gluten free and soy-free
- Hypo-allergenic and non-comedogenic
- Sustainable palm oil, complies with RSPO
- Handmade in California
- Dimensions: 3" l x 4" w x 1.5" h
- Includes 2 bars
About the Brand - SWAY
Rebecca So created her own natural deodorant out of sheer necessity and desperation. She was fed up with ineffective deodorants that left her underarms dry, flaky and even discolored. So when she found her holy grail, an apple cider vinegar-infused deodorant that solved her underarm "issues"and made them pretty (Yes, armpits can be pretty, too!), she took a step back from her corporate job to embark on a mission to save two pits at a time. Today, not only is SWAY a one-of-a-kind, premium underarm care product, it has expanded to offer total body skincare products using natural and premium ingredients. Her vision for SWAY is for it to become a lifestyle brand that everyday women can turn to for effective, practical, affordable and #shelfie-worthy solutions. *BIPOC & Women-owned.