Herbal Soaps
Give exceptional nourishment to your skin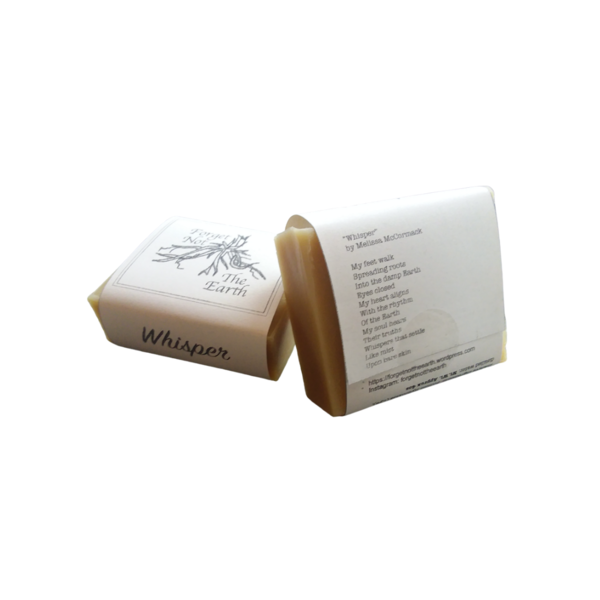 Forget Not The Earth's original soaps are crafted with blends of herbal infusions, nourishing oils, wildcrafted herbs and 100% pure essential oils. Variations in color and texture are created using herbs and by allowing herbal infusions to naturally lend color to each blend. Every blend is created with intention, some to support healing in a particular body system and others to uplift the spirit. No matter the purpose, all Forget Not The Earth soaps offer a silky lather and exceptional nourishment to the skin. All Forget Not The Earth products are Vegan and Gluten Free. Comes with two soaps of your choosing.
Options:
Calm: A gentle and cleansing soap blend with oatmeal and oil infusions to support dry skin & eczema, with stress reducing essential oils to calm skin & spirit.
Whisper: Inspired by the practice of "tree bathing" - listening to the wisdom of the trees, connecting with Mother Earth & our innate wisdom. This soap blend highlights a pine needle infusion and forest essential oils, to create an antiseptic and healing blend with a rich, silky lather and a fragrance reminiscent of the forest and infinite wisdom.
Shine: A skin nourishing blend of oil infusions and essential oils indicated for acne prone & problematic skin. A bar to support pH balance & a healthy nervous system.
Rise: A simple blend of lavender, lemon and vanilla make this an uplifting and empowering experience. We rise, we accept the light, and we blossom.
Shift: A blend that grew out of the need to move forward, to create change and bring about a necessary shift. With a sensual, sexy blend of essential oils and skin & soul nourishing ingredients, this blend is tied together with the addition of chicory root powder to improve circulation, add gentle exfoliation, and energetically help us move past obstacles.
Steep: A perfect cup of "tea" for your skin! A marbled blend crafted with green tea infusion, matcha powder, chamomile oil infusion, goat milk and local raw honey, with lemon, vanilla and chamomile essential oils to create a highly antioxidant, restorative and healing soap blend for mind, body and spirit.
Vibe: A decadent blend of layered goat milk soap, crafted with local fair trade coffee infusions, coffee and roasted chicory root grounds, goat milk, moisturizing oils and vanilla essential oil. Great for restoring skin health and reducing inflammation and supporting common skin conditions.
About the Brand - Forget Not The Earth
Melissa McCormack is a small, family farmer, herbalist and teacher with a passion for crafting all-natural, herbal self-care products that nurture the mind, body and spirit. As an clinical herbalist and energy worker, Melissa feels that crafting herbal products that touch our skin (the body's largest organ) is a way to honor Mother Earth and our hard-working bodies. Melissa believes that the surest way to whole-body wellness is when we transform our habits into opportunities for daily self-care. This is why Forget Not The Earth products are intended to easily fit into the tasks we do every day. Also a wife and mother of three daughters (and many farm kids!), Melissa is dedicated to family-centered care and wellness.