Blondery Dog Treats
Gourmet treats handmade in Brooklyn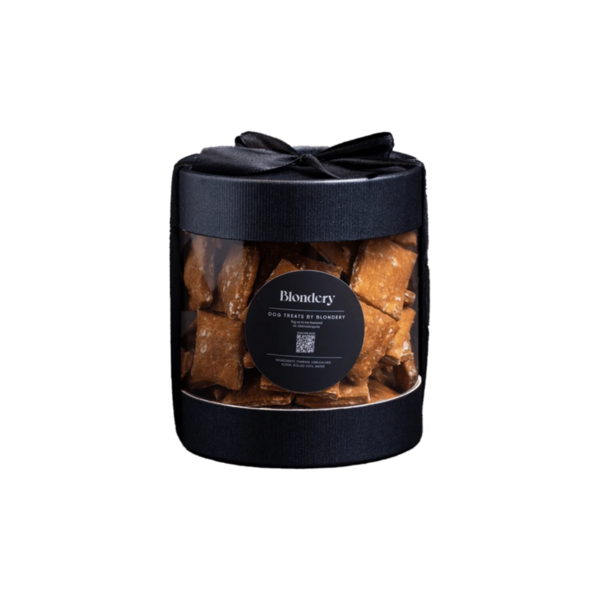 Your bougie barking baby deserves a blondie, too. Our furry friends get nothing but the best, so treat them to a gourmet doggie delight. Made with all pup-friendly ingredients, you can feel good about what you're feeding your little cutie and be sure that it'll have his tail rockin' from side-to-side. Includes about 15-20 treats.
Ingredients: pumpkin, flour, oats, water
Treats are handmade and might take up to a week to ship.
About the Brand - Blondery
Founded by professional pastry chef Auzerais Bellamy, Blondery reflects her passion for making the perfect blondie and making her profession a better place for women and people of color. Baked to order in Brooklyn and shipped nationwide, Blondery solves the essential question of what to give when you want a unique and delicious gift for yourself or others any time of year.
Auzerais grew up in Hayward, Calif., baking for her family and experimenting with recipes. She graduated magna cum laude with a degree in pastry arts from Johnson & Wales and interned at Alain Ducasse's pastry school in France before a decade-long career in fine dining. She staged at Michelin-starred establishments The French Laundry in California and Daniel and Per Se in New York and worked as the executive pastry chef at Brooklyn's Pies 'n' Thighs and Ducasse's Benoit Bistro. In 2015 as the pastry sous chef at Thomas Keller's Bouchon Bakery, Auzerais became frustrated with the lack of representation in fine dining and set out to change the industry. Auzerais found her soul as an entrepreneur and, as Blondery grows, is creating the supportive workplace she sought by hiring people of color and empowering them for careers in the restaurant industry.
Auzerais is a lifelong advocate for social change and recently donated half the proceeds from her Brooklyn Blackout Blondies to the Equal Justice Initiative as part of the nationwide Bakers Against Racism campaign.
When not at work, Auzerais collects artisan candles, appreciates fine fragrances and looks for new hiking experiences. *Women & BIPOC-owned.