Vitamin C Pink Clay Mask
Naturally scented with Geranium essential oil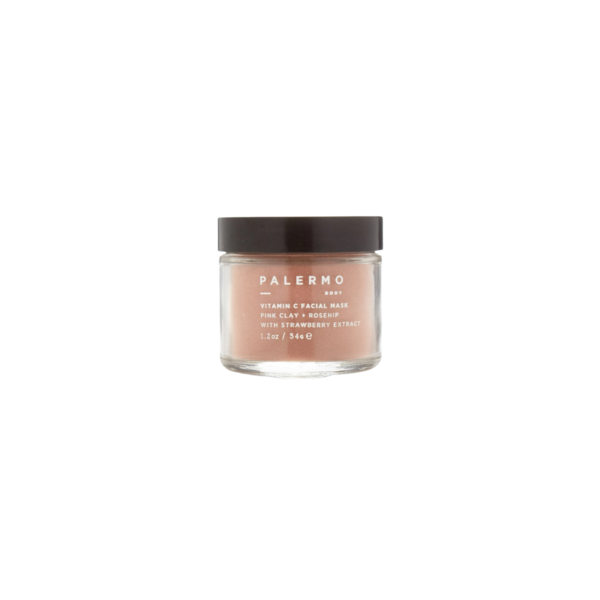 This Vitamin C rich, powder mask combines French + Australian pink clays with fruit and botanical extracts to reveal smooth, soft, radiant skin. The clays' natural minerals offer gentle exfoliation and draw out impurities without removing skin's natural moisture, making this mask ideal for sensitive skin. Strawberry extract boasts high levels of Vitamin C—vital to skin's collagen production and reducing the appearance of sun damage. Naturally scented with delicately floral geranium essential oil, this mask is a staple for low-key at-home facials. 1.2 oz / 34 g glass jar.
About the Brand - Palermo
The philosophy behind Palermo Body began with Jessica's Nonna Vincenza. She lived her entire life based on the foundation of natural holistic living while ingraining this value and tradition on Jessica. She taught Jessica the importance of cooking with the freshest ingredients, how to garden, and how to use natural remedies for bumps, burns and beauty.
Years later, Jessica began creating products inspired by her Nonna; each product would be truly natural without exception. It only seemed fitting to tribute the business to her Nonna by naming it Palermo Body, after the city where her grandmother was born.
Palermo Body is the culmination of all things Jessica lives and loves. From creating unique formulas, beautifully designed packaging, to being environmentally conscious of where ingredients are scoured. Palermo Body celebrates the vibrancy, color and purity in the life around us. *Women-owned.