Apostrophe Puzzles
Curated puzzles by contemporary artists of color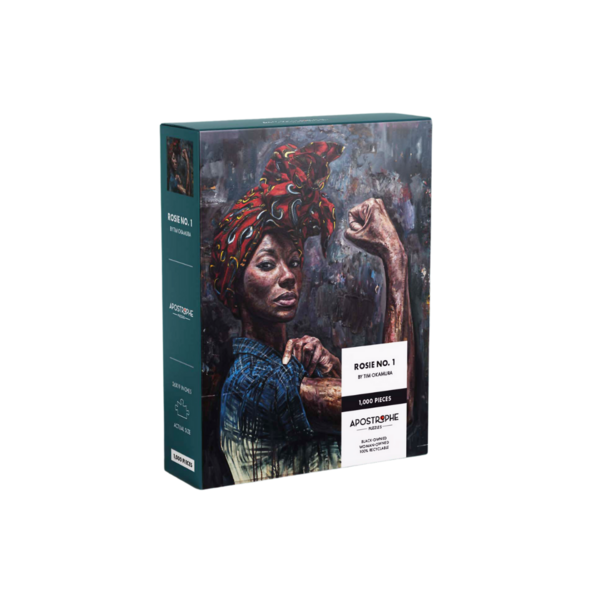 Puzzles have come a long way from kittens and windmills, but the industry remains painfully lacking in diversity. Even new companies with beautiful, modern images have very few puzzles that feature people of color - either as artists or subjects. The art world has a similar issue with representation. Recent studies have found that over 85% of the work featured in major US museums belong to white artists, and that over 80% of American artists represented by top New York galleries are also white. When institutions struggle or fail to support artists of color, it severely impacts how they are able to cultivate capital and generate value. This then trickles down to us as consumers, continually influencing which artists we know and whose work matters.
Apostrophe's puzzles aim to bridge the gap of accessibility to fine art, and were created with the knowledge that the work of artists of color is valuable, desirable, and profitable. They believe that art appreciation is not only for the wealthy, and that the future of art consumerism is one in which everyone can participate. In punctuation and grammar, the apostrophe symbol is used to illustrate where there has been an omission (o'er), and to indicate possession or ownership (Bearden's legacy). Their name draws its inspiration from this usage, fully articulating their desire to fill the void of diverse representation in the puzzle space, and to exhibit their pride in the creativity and contributions of contemporary artists of color.
Puzzle dimensions: 24 x 24 inches
Box dimensions: 10 x 8 x 2 inches
Piece count: 1000
About the Brand - Apostrophe Puzzles
Apostrophe Puzzles is a Black owned, woman-led company creating modern, fun, and vibrant jigsaw puzzles that showcase the work of contemporary artists of color. Founded in Brooklyn in 2019, their bold, high quality puzzles aim to contribute to a culture of art consumerism that is accessible and sustainable. At least 10% of each puzzle purchase goes back to their featured artists, and an additional portion of each sale is donated to a non-profit organization working to expand arts access and accessibility in communities of color. Recently named the #2 Best Puzzle for Relaxation by Well + Good, they are dedicated to creating a space in the puzzle industry that actively champions the work of artists of color, demonstrating through their collections and collaborations that BIPOC art matters, and that we are allowed to engage with it.