Tenebris Soothing Balm
Gently relieves aches and pains in joints and muscles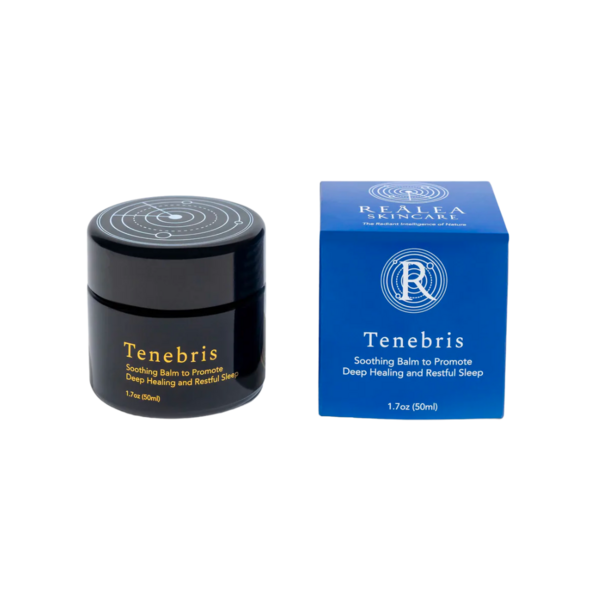 Tenebris is a flowering alpine forest of wild medicinal herbs in a jar. Verdant and mysterious, it gently penetrates deep into muscles and connective tissue to soothe aches, reduce inflammation, ease tension, and stimulate circulation and healing. Featuring black cumin seed oil, gotu kola, camphor, lemon balm, and alchemical oil of silver.
Tenebris is great for the end of the day. It means "Dusk" in Latin. Whether targeted toward specific pains and injuries or dabbed on the temples and massaged into the feet, Tenebris delivers peace and repose.
Like all Reålea's products, Tenebris is entirely natural, made from whole ingredients, with zero synthetic chemicals or preservatives. In violet glass jar with durable 18k gold label. Hand-made, numbered small batch. Their product cartons are made from Tree-Free paper from upcycled sugarcane byproducts and are fully compostable.
About the Brand - Reålea
Reålea Skincare is a California public benefit corporation with the mission of improving human health, advancing knowledge and promoting the alchemical arts. Our founder, Nick Grossenbacher, began his career as a historian studying traditional medicine and alchemy around the world. In his careful study of long forgotten ingredients and techniques, he identified a great modern opening and then joined forces with his co-founder Crispin Clarke to give new life to these timeless-yet-practical and environmentally harmonious techniques.