Italian & French Countryside Collection
Gourmet seasonings crafted to taste like delectable places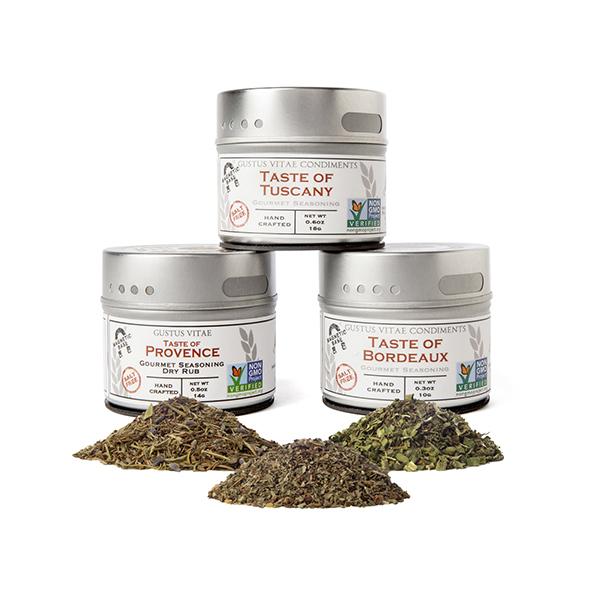 Each artisan seasoning is crafted to capture the flavor of its place, and each is uniquely exceptional but combined they are a tribute to fusion cooking, making it easy to create authentic Italian and French cuisine at home. Certified Non-GMO, All natural- free from artificial colors and flavors.
Taste of Tuscany: Basil, Oregano, Red Bell Peppers, Garlic, Green Bell Peppers, Black Pepper, Fennel and Rosemary.
Taste of Bordeaux: Chives, Dill Tips, Basil Leaves, Chervil, Tarragon, White Pepper, and Parsley.
Taste of Provence: Savory, Thyme, Rosemary, Lavender, and Fennel.
Gustus Vitae, the "Taste of Life" in Latin, are crafters in Venice, CA of artisan finishing salts and authentic gourmet spice blends. They source both local and international sustainably sourced ingredients, and only accept the highest quality before hand-packing them into a reusable and recyclable tin.