Finishing Sea Salts & Rubs Collection
Hand packed in California from local and imported ingredients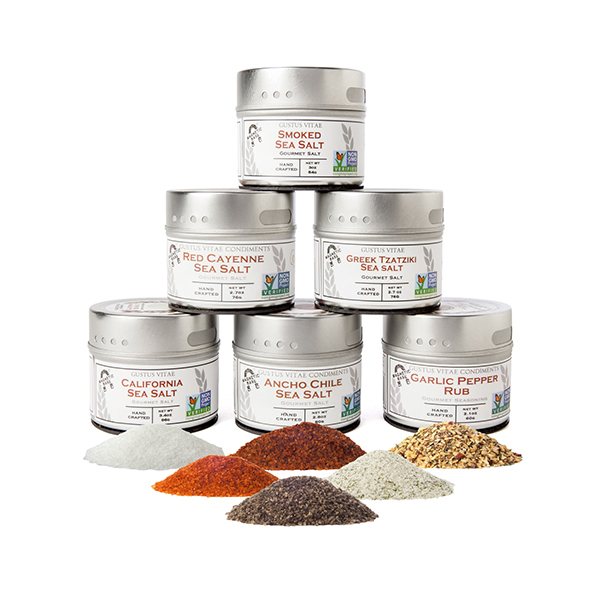 Finishing Sea Salts & Rubs Collection comes with six unique and individually packed tins -- California Sea Salt, Ancho Chile Sea Salt, Garlic Pepper Rub, Red Cayenne Sea Salt, Tzatziki Sea Salt, Smoked Sea Salt.
Use the California Sea Salt as the foundation for layering flavors. For a light smoky flavor with a kick of heat, the Ancho Chile Sea Salt can be rubbed deeply into chicken or steak. For those wanting a taste of the taverna, the Greek Tzatziki Sea Salt brings authentic Greek cuisine to the table, capturing the essence of tzatziki without the mess. The set concludes with a Smoked Sea Salt-providing deep and robust smoky flavor to meats while combining with real California Sea Salt to really amp up the taste buds.
Certified Non-GMO, All natural- free from artificial colors and flavors.
Gustus Vitae, the "Taste of Life" in Latin, are crafters in Venice, CA of artisan finishing salts and authentic gourmet spice blends. They source both local and international sustainably sourced ingredients, and only accept the highest quality before hand-packing them into a reusable and recyclable tin.