Global Gourmet BBQ Collection
A flavor packed four pack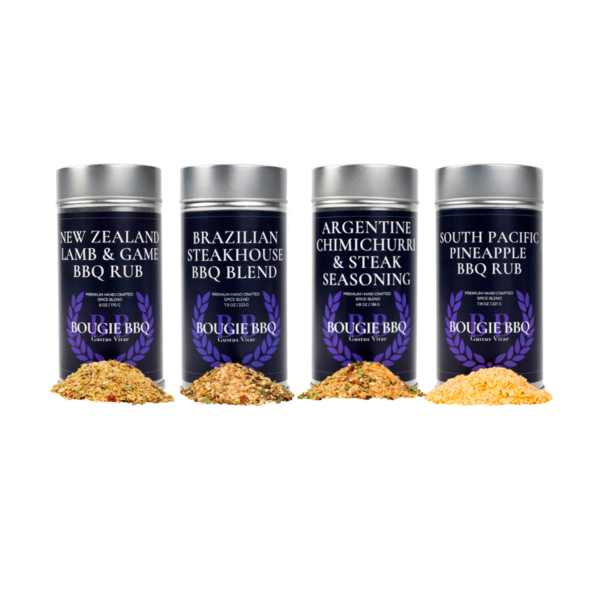 Experience the delicious world of BBQ with this globe-spanning collection of authentic artisanal seasonings. Carefully crafted from only the very best in all natural ingredients, each gourmet seasoning distills the essence of the art of grilling from around the world, from the open flames of Argentina to the wild game heritage of New Zealand.
Bring the authentic taste of the churrasco home with our Brazilian Steakhouse blend, loaded with big and bold South American flavors. This super-premium small batch spice mix brings out the best in everything from meats to seafoods, wild game to tender cuts. Brazilian Steakhouse seasoning a vibrant, bright, and versatile spice mix is the one you'll be reaching for time and time again.
The artisanal New Zealand Lamb & Game BBQ rub, crafted in the USA with only the very best all natural ingredients, brings out the best in lamb, deer, boar, foul and turkey with flavor that enhances and elevates, never overpowers.
Includes 4 gourmet blends in 8-ounce tins
- New Zealand Lamb & Game Rub
- Brazilian Steakhouse BBQ Blend
- South Pacific Pineapple BBQ Rub
- Argentine Chimichurri & Steak Seasoning
About the Brand - Gustus Vitae
Gustus Vitae, the "Taste of Life" in Latin, are crafters in Venice, CA of artisan finishing salts and authentic gourmet spice blends. They source both local and international sustainably sourced ingredients, and only accept the highest quality before hand-packing them into a reusable and recyclable tin.