Hazelnut Covered and Dark Chocolate Bar
High quality, artisanal chocolates made locally in New York City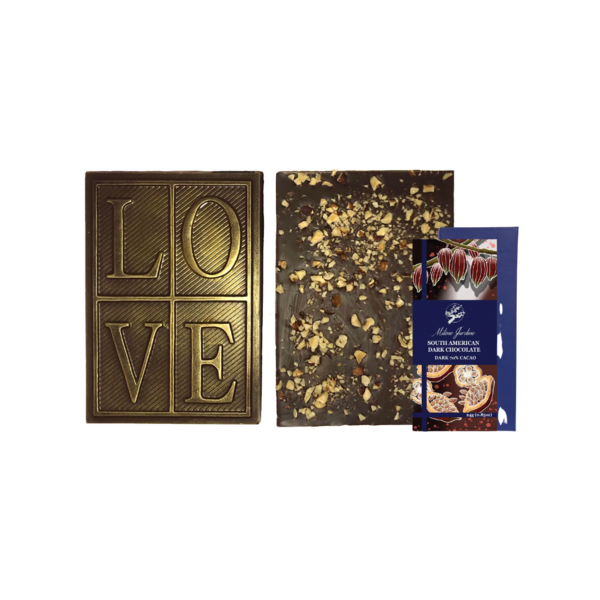 Celebrate love with the slow-roasted hazelnut-covered chocolate "LOVE" sculpture. Rich dark chocolate with nutty hazelnuts and dusted in gold. Naturally vegan. Also includes 1 South American Dark Chocolate Bar.
1 x "LOVE" sculpture: 1/2 lb of hazelnut covered chocolate, dusted in gold. Size: 7.5" x 5.5" x .4", 8 oz.
1 x South American Dark Chocolate Bar: Made with fruity Peruvian beans and toasty notes from Ecuador's Cacao Arriba the blend leaves you with a balanced taste of dried fruit and sweet spices. Size: 5.125" x 2.3" x 2.3", 4.25 oz.
About the Brand - Milène Jardine Chocolatier
Milène Jardine Chocolatier creates high-quality, artisanal chocolates made locally in New York City. Each flavor tells a story and takes the consumer on a journey to a different country to experience a new flavor. The ingredients utilized are fresh with natural health benefits to offer a dessert that indulges and heals. The styling embodies a modern elegance, with each confection made to harmonize a graceful release of flavor and texture, wrapped in modern yet sophisticated packaging. The hope is to spread happiness, celebrate diversity, and inspire a world to "Live by Love" with each chocolate.