Askanya Chocolate Bars
Gourmet bean-to-bar chocolate company from Haiti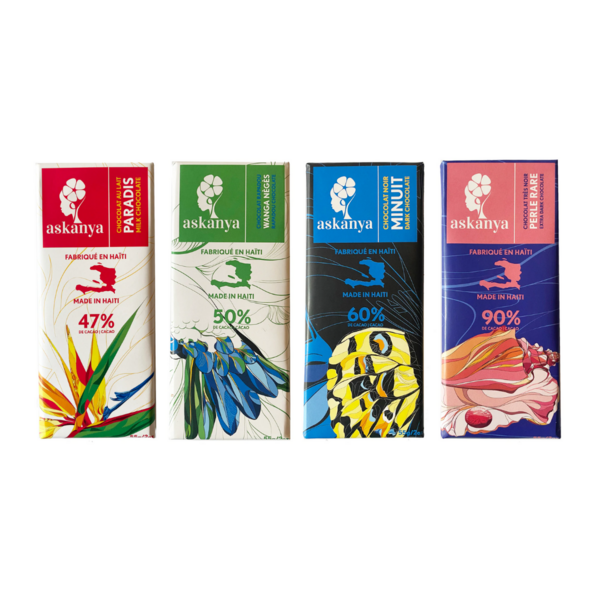 Delicious, gourmet, and ethical chocolates made in Haiti. 100% natural, and handcrafted by women.
Includes 1 of each:
- Paradis (47% Cacao): A flavorful milk chocolate bar with subtle fruit flavors
- Wanga Nègès (50% Cacao): A rich, chocolate taste and a complex mélange, from caramel to dried fruit
- Minuit (60% Cacao): An introductory dark chocolate bar with a rich, deep and dark chocolate taste
- Perle Rare (90% Cacao): Intense without being bitter; delivers a chocolate hit with a short finish
About the Brand - Askanya
Corinne is a Haitian-American Engineer with the Black Girl Magic! Realizing that Haitian Cacao was among the top 50 in the world, she decided to create ethical and gourmet chocolates that Haitian would be proud of and that chocolate connoisseurs worldwide would fall in love with. Corinne also wanted for her social impact business to generate direct revenues for Haitian farmers; full-time jobs for young women and work opportunities in the Haitian countryside. Since 2015, Askanya Chocolates are made in Haiti, using natural ingredients, honestly sourced and handcrafted by women. *BIPOC & Women-Owned.