Hello, Cookie Dough Cookbook & Mix
What you need to create safe and ready-to-eat cookie dough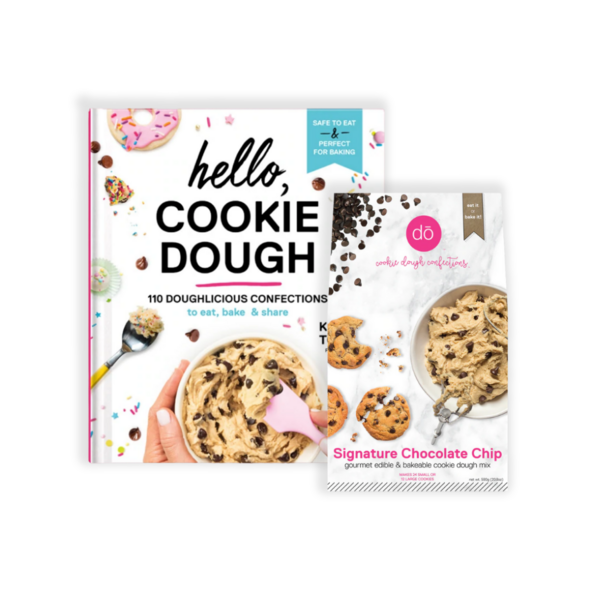 This cookbook has something for every sweet tooth. Kristens spilling the secrets about how to make safe-to-eat cookie dough at home and 110 decadent ways to enjoy it. Doughlicious recipes include a mix of fan favorites from the shop and never-before-seen creations from founder Kristen Tomlan's kitchen.
Also includes a signature chocolate chip edible and bakeable cookie dough mix. DŌ uses the highest quality ingredients and no preservatives to bring you a homemade batch of safe and ready-to-eat cookie dough, exactly how you crave it straight from the mixing bowl or freshly baked from the oven. Dig in!
About the Brand - DŌ
Kristen Tomlan is the Founder and CEO of DŌ, Cookie Dough Confections, the world's first edible cookie dough confectionary. Her unique take on the formerly forbidden treat is a viral success and has inspired millions of customers worldwide to eat cookie dough just how the crave it -- straight out of the mixing bowl! Her flagship shop in New York City's Greenwich Village garners hours-long lines and has captured the attention of leading outlets including The New York Times, the TODAY show, People magazine, Forbes, O, The Oprah Magazine, and The Food Network. Her brand has grown to include multiple retail outlets & pop-ups, a booming ecommerce business, hands-on baking classes at The AcaDŌmy, and at-home safe-to-eat cookie dough mix! Her first cookbook, Hello, Cookie Dough: 110 Doughlicious Confections to Eat, Bake, and Share debuted in October of 2019. She lives in Brooklyn with her husband, daughter and rescue pup.