Cocoa & Coffee Body Kit
The perfect combination for soft skin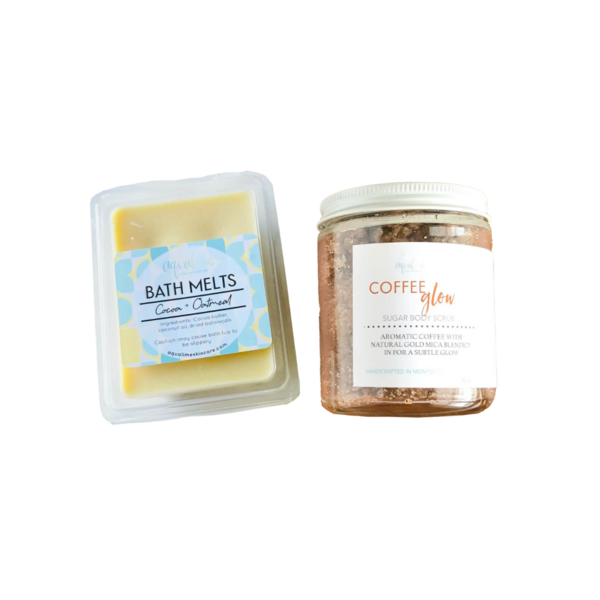 These bath melts are made with moisturizing, natural body butters. Toss them into a hot bath to melt, and enjoy a fragrant and skin-softening bath! Made with Raw Cocoa Butter and topped with gluten free colloidal oatmeal.
The coffee scrub was created with an aromatic blend of finely ground coffee, nutmeg and cinnamon. With an added shimmer ingredient, gold mica to give your skin a glow before and after exfoliating. Mica is a natural mineral derived ingredient know for its amazing shimmer. Exfoliating with the coffee scrub will improve circulation, leaving you with a youthful, healthy glow. Coffee is also a very effective treatment for acne as it deeply exfoliates the skin. This can be used on both the body and gently on the face.
About the Brand - Aqualime
Founded in 2012, Aqualime's journey began when creator Tenesha Carter, made her first batch of oatmeal bath for her son, who is suffering with a mild case of eczema. It is where her passion for skincare began, which soon expanded into so much more including natural facial care and clean home staples. After obtaining her Bachelors of Art in Fashion Merchandising, Tenesha worked in retail management for 7 years. Always having an eye for detail, she used her creative skills throughout the years until she found her niche. From product design and development to sourcing US grown ingredients, every detail has been carefully selected and created from her vision. Every product is always lovingly handmade with natural ingredients that are botanically infused, cruelty free and scented with pure essential oils. Aqualime has been featured in Southern Living Magazine, Good Grit, VoyageATL, Alabama Network News and more. *BIPOC & Women-owned.