Take on the Day Mask & Aloe Hand Sanitizer Set
Designer mask & 62% Alcohol Aloe Hand Gel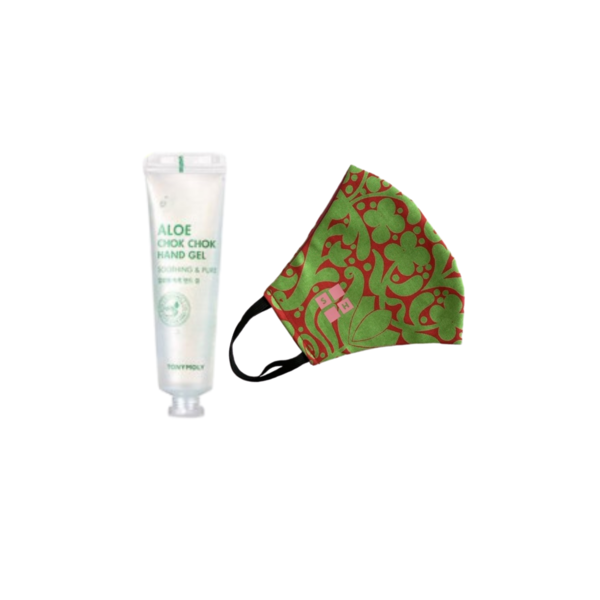 Designed by Brianna Fano who has worked with design houses like Tory Burch and Alice Olivia, every item from Swatch Hub is sewn to perfection. Machine washable, made in Brooklyn, each mask is made from high-end fabric repurposed for face coverings.
These Masks are lined for extra protection and a clean finished product. They are Machine Washable, Gentle/ Delicate Setting.
Brianna Fano, the founder of Swatch Hub, has worked with leading designers like J. Mendel, Tory Burch, Alice and Olivia, Victoria's Secret and more. She always dreamed of running her own studio until she launched SwatchHub.
Since starting her business in her living room with a single embroidery machine, she has grown into her Industry City Studio where customization ranges from embroidery to hand beading to vinyl printing.
Measurements from ear to ear (over the nose):
S-13" Wide
M- 14" Wide
Hand Sanitizer: Eliminate harmful germs with our FDA approved Aloe Chok Chok Hand Gel! Formulated with 62% Ethanol Alcohol, our hand sanitizer gel is also infused with Aloe Water and Witch Hazel to leave skin moisturized AND clean - effectively killing 99% germs without a sticky residue. Please note the 3 cm air bubble in each 30 ml tube prevents leaking during the sealing process of the tube. Each bottle is filled with exactly 30 ml of product!