Hemp Infused Body Butter
An ultra hydrating body butter infused with some of the world's purest single-origin hemp oil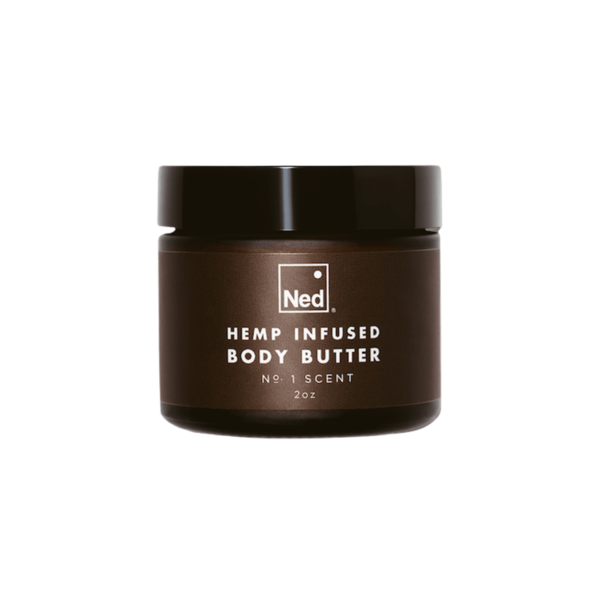 Ned's N°1 Hemp Infused Body Butter is made in small batches to condense rich Vitamin A, C, and E, nutrients, antioxidants, and essential fatty acids. Full spectrum hemp infusion will awaken your body's cannabinoid receptors while nourishing and revitalizing your skin. Whipped up using the finest organic and non-GMO ingredients including mango butter, jojoba oil, calendula oil, and a distinct blend of essential oils. These ingredients are known for their anti-inflammatory and antibacterial properties. It will soothe your skin and heal wounds quickly, and revive your skin while stimulating blood flow. Not to mention, smells heavenly. Apply after a shower or bath for best results!
Ingredients:
Mango butter, MCT oil, sunflower seed oil, jojoba oil, macadamia nut oil, calendula oil, apricot kernel oil, full spectrum hemp oil from flowers (up to 135mg of extract, 120mg of active phytocannabinoids), carrot seed oil, raspberry seed oil. All ingredients are certified organic and non-GMO.
Ned was created to help people feel better and live better through simple means and a deep connection to the natural world. Turns out, it takes a lot of steps to keep things purely simple. Based in Boulder, Colorado, Ned products are meticulously slow-crafted in small batches to create the purest, most effective and sustainably sourced natural remedies from around the world. Grown with love in the Rocky Mountains of Colorado by Farmer Curt and his two dogs, Winston and Tooty.