Salt Free Gourmet Seasoning Collection
Salt free spice & herb seasonings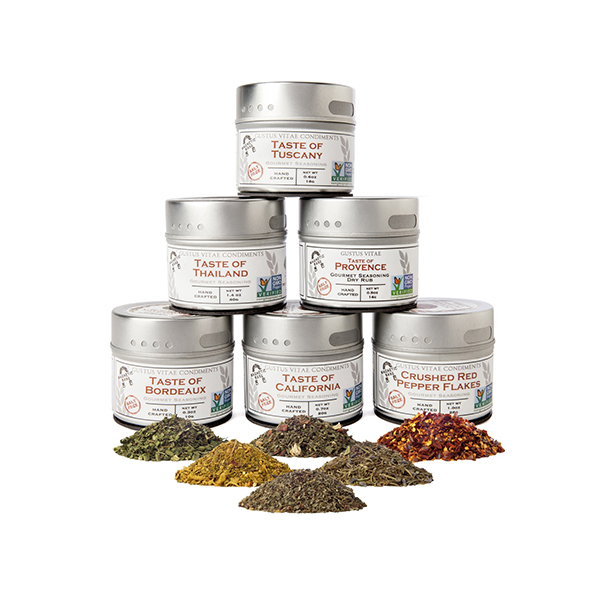 Each gourmet salt-free seasoning and spice blend is exceptional in its own way: the sweet and zesty notes of Taste of California adds delicious complexity to everything from meats to salad dressings; fresh, savory Taste of Provence will bring the flavors of the French countryside to your kitchen; the light, warm notes of the Taste of Bordeaux lend refinement and depth to dishes ranging from roasted potatoes to poached eggs; Taste of Thailand's complex curry and bold flavors provide wonderful lift for veggies and chicken; fragrant Taste of Tuscany's fresh, varied texture and bright aroma make it the perfect final accent to pasta, pesto, bruschetta, and crostini.
Crafted in small batches, Certified Non-GMO, Hand packed in California from local and imported ingredients, All natural- free from artificial colors and flavors.
Gustus Vitae, the "Taste of Life" in Latin, are crafters in Venice, CA of artisan finishing salts and authentic gourmet spice blends. They source both local and international ingredients and only accept the highest quality before hand-packing them into a unique tin.