Cuisines of the World Seasonings
Unleash authentic flavors from all over the world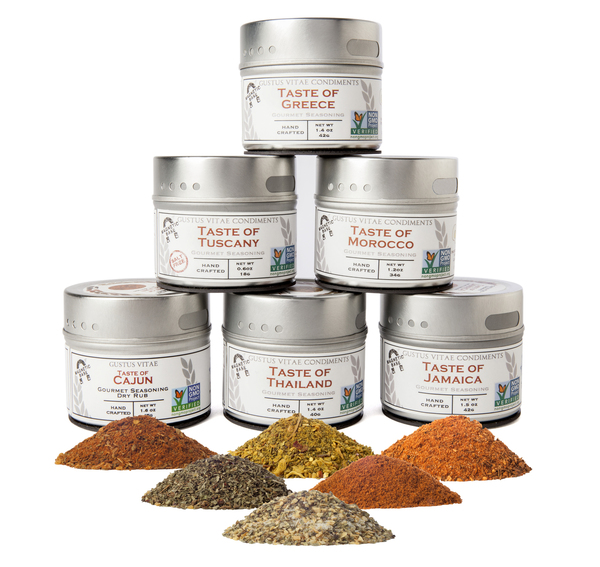 Crafted in small batches, Certified Non-GMO, Hand packed in California from local and imported ingredients, All natural- free from artificial colors and flavors.
Taste of Thailand: Ginger, Basil, Red Pepper, Cumin, Cardamom, Black Pepper, Garlic, Onion, Red Bell Peppers, Cilantro, Turmeric Extract, and Garlic Oil.
Taste of Jamaica: Garlic, Thyme, Black Pepper, Cumin Seed, Cinnamon, Allspice, Ginger, Red Pepper, Nutmeg, Sage, Onion, Paprika, Sugar, and Salt.
Taste of Morocco: Chili Peppers, Coriander, Paprika, Red Pepper, Dehydrated Garlic, Salt, Cinnamon, Caraway, Ginger, Vegetable Oil.
Taste of Tuscany: Basil, Oregano, Red Bell Peppers, Garlic, Green Bell Peppers, Black Pepper, Fennel, and Rosemary.
Taste of Cajun: Oregano, Thyme, Black Pepper, Ground Celery Seed, Red Pepper, Paprika, Salt, Onion, and Garlic.
Taste of Greece: California Sea Salt, Garlic Powder, Black Pepper, Oregano, Lemon Oil, Marjoram.
The collection also includes California-made rectangular stainless steel plate for easy mounting on any kitchen surface.
Gustus Vitae, the "Taste of Life" in Latin, are crafters in Venice, CA of artisan finishing salts and authentic gourmet spice blends. They source both local and international ingredients, and only accept the highest quality before hand-packing them into a unique tin.